Tickets

Click here to purchase your tickets today
Reserve your seats by purchasing your tickets online and print from the convenience of your home or office.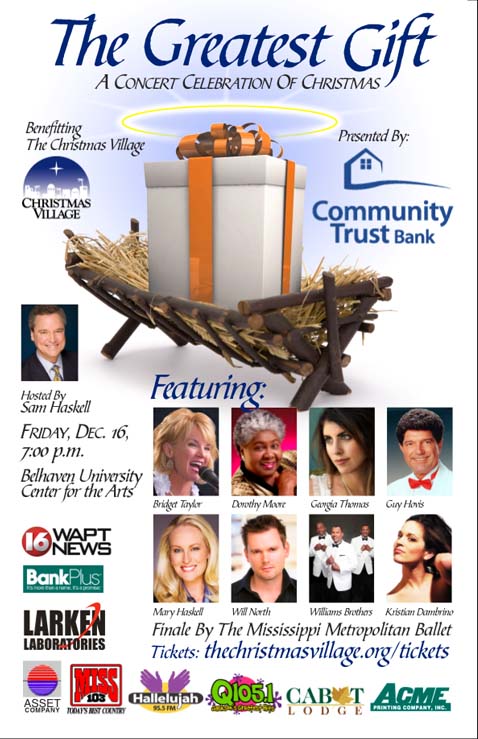 The Greatest Gift Concert
Friday, December 16, 2011, 7:00 PM
Belhaven University, Center for the arts
The Greatest Gift is hailed as the best musical event of the Christmas season in the Jackson area. This "crossroads" Christmas concert brings together entertainers with Mississippi roots and success well beyond our borders, styling Christmas music to their genres.

The evening is wrapped like a big Christmas present with a finale performed by the Mississippi Metropolitan Ballet. Something for everyone's taste, and every musical morsel enjoyed by all…from Blues to Country to Gospel to Jazz to Traditional…this evening is inspirational and unforgettable.

Artist signing will follow the event. Entertainers include:
Sam Haskell -
Master of Ceremonies
Former worldwide head of television for the William Morris Agency in Hollywood and author of the best-selling memoir, Promises I Made My Mother
Dorothy Moore
Blues Singer & Author
Best known for 1976 Grammy nominated "Misty Blue", charted number one R&B
The Williams Brothers -
Gospel / Soul Trio
Together since 1960, nominated for a Grammy in 2009. They have performed with Stevie Wonder, Yolanda Adams and Luther Vandross
Mary Haskell - Actress/Entertainer/Singer
Actress in The Christmas Child (by Max Lucado), Sisters and Seventh Heaven. She has 3 music CD's including Power of the Cross

Bridget Taylor -
Contemporary Christian Music Artist

Well known for writing "The Blessing" for parents who have lost a child. She travels the country performing and speaking at women's conferences
Guy Hovis - former featured singer of The Lawrence Welk show
Still performs all over the country and can be seen on MPB's "Marvin Hamlisch Special"
Will North -
Actor / Singer / Writer
As a member of Equity, SAG, and AFTRA, Will has performed over 80 roles in theatres across the country. In addition to his extensive work on stage, Will recently released his debut country album "American Southern Boy" (available on iTunes, etc.), and he is a published songwriter and a member of ASCAP.

Georgia Thomas
Singer/Songwriter

This brown-eyed, deep-fried, southern belle is also a dedicated mom, strong in her convictions, stronger in her faith.

Kristian Dambrino
Singer/Songwriter

This former Miss Mississippi is best known for her recording of her song Pearlington's Prayer. Her performances have helped raise $15 million in hurricane relief aid. She is currently working as a Production Artist with Brentwood Communications and in studio writing and recording an EP for release in early 2012.
Mississippi Metropolitan Ballet Company (MMB)
Accepted as a performing member of the Southeast Regional Ballet Association, a division of Regional Dance America, MMB is the only member company in Mississippi. They will dance the finale of the event.
<